I'm kind of a minimalist when it comes to running. I don't have a ton of tech and I'm not big on gear. I like it simple. However, I like quality items.
I thought I'd share my race day essentials. These are the items I'll be packing in my carry-on luggage next week when we depart for California. We are attempting to pack entirely in carry-on luggage, but know that's going to be difficult. I'll be running two races (10k and half) for the Dumbo Double Dare so I will need two running outfits and am going to bring two pairs of sneakers — which take up room!
Anyway, onto my list!
1. Running shoes — I feel strongly that you should go and get fitted for running shoes. Everyone needs something different and its helpful to have someone who know what they are doing show you what should fit, then let you test out a bunch and find the sweet spot for what works for you. Even as a beginner, getting fitted is important. If you invest in NOTHING else, get good shoes.
My current shoe of choice is the Mizuno Wave Inspire 9.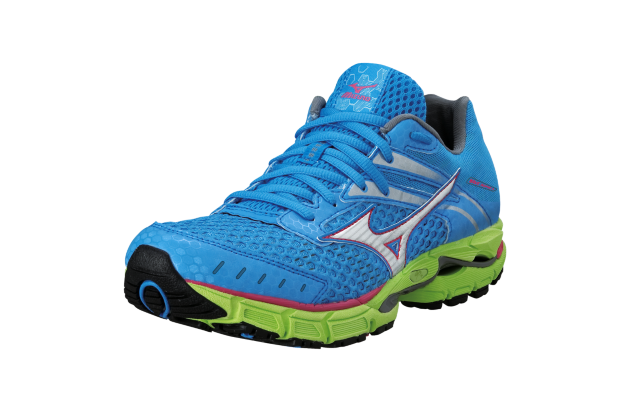 I used to wear (and still wear my old ones while I phase them out) the Asics 2100 series. However, Asics made some adjustments to this shoe in their new version. I still like it, but the Mizuno Wave Inspire just felt lighter and fit a little better.
2. A good sports bra — again, for me (a female) this is essential. A sports bra, can make or break a run. Good support and good fit will help you get through the long runs. I personally really like the TaTaTamer II from Lululemon. While I definitely empathize with those who have issues with lululemon and their sizing limits, the bottom line is, this is the best sports bra I have found. Until I find something equally good or better, I'm going to keep buying it.  If you are smaller chested, a sports bra probably isn't a big of a deal – just get something that won't move around or rub. For the bigger chested (I'm on the bigger side at a 32D) good support is also important. I like the TaTaTAmer because it offers good support, adjustable straps and also has a clasp closer (easy off after the race — none of that crazy yoga move crap to get off a sweaty bra).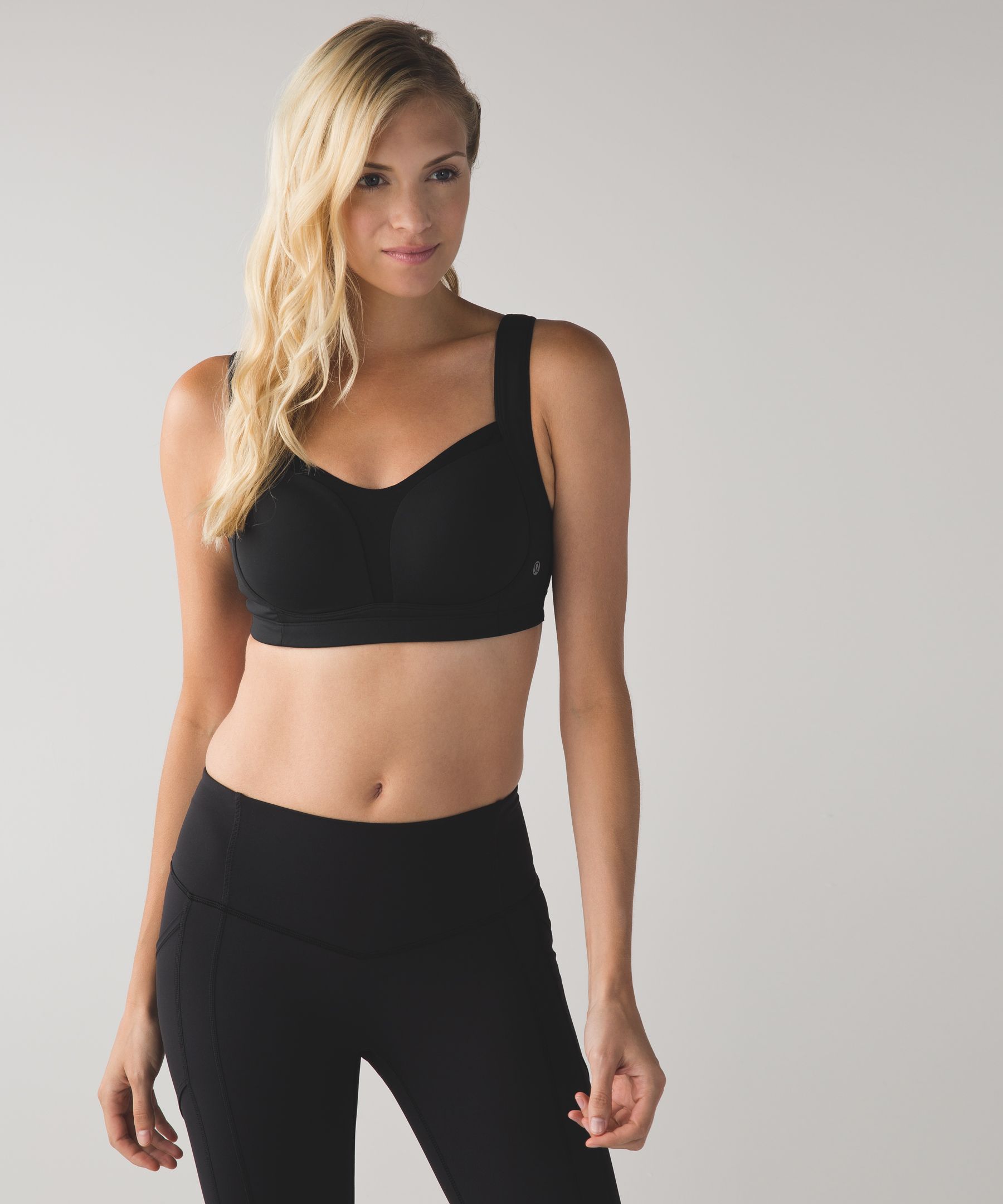 3. Good socks. Seriously, go buy yourself some non-cotton socks. I rock Under Armour Nylon/Acrylic socks in neon colors. That's just how I roll… They also come in White if you're boring like that. Don't even try to wear cotton socks. You WILL get blisters. Bad ones…ask my Sister in Law.
4. Shorts, pants, capris — your bottoms of choice. I used to run only in shorts. Then I bought a pair of Under Armour Heat Gear capris and have been running mostly in those for races. They wick away moisture and heat (they are also good for my TRX/personal training). They also suck everything in so nothing's jiggling around while you're trying to focus on running. For my upcoming races I'll be rocking some shorts for the 10k and a pair of capris for the half. Get what works for you. Heck, if you're just starting out wear sweatpants, no one's gonna care. After a while you will understand the benefits of clothes made for the sport, but if you're just getting out there are on a budget, wear whatever you have. I have a friend who recently started running and had been wearing yoga pants — no problem. For her first race though, I convinced her to go get a pair of capris to run in as they will be much more comfortable!
5. Underwear — speaking of bottoms, eh hem…the underwear part is really up to you. I personally can't do the whole commando thing, but I know a lot of people do. I used to just run in normal cotton underwear, but I recently invested in some nylon briefs for my upcoming races. We'll see if they make a difference…
6. Shirt — again, this is up to you and will depend on the weather. I am not a big fan of tanks, but I know a lot of people prefer them. For me, I like a looser fitted tee. I don't want to worry about something moving around (like a tight tee or tank might do). Sometimes I will layer a tank over a tee or a jacket or long-sleeve. It just depends. But yeah… I really lean towards a looser fitted tee. I've been wearing Under Armour heat gear for my races. I tend to get overheated and these help out with that. Even if its cool outside, I'll layer something over them.
7. A reliable hairband and a headband. Hair is always in a ponytail or braid. There's this chick who runs near my work and leaves her hair down and it just looks so awkward and uncomfortable.  Ponytail…trust me.  I use goody hairbands that have a rubberized effect so they stay in place. Then I add a headband to keep fly-aways out of my face. I used to use goody brand, but bit the bullet and got myself some Sparkly Soul headbands for the upcoming races. I've been wearing them around the house and working out to make sure they won't give me a headache. So far I'm loving them. They stay in place great but I barely feel them on my head!
8. Sunglasses. If you're going to run during the day, I am a big proponent of eye protection. The sunlight can damage your eyes. My mom has issues with pressure in her eyes and has been instructed to wear sunglasses whenever she is outside. I have concerns that I will have issues when I am older so I try to wear sunglasses as much as possible. I have a pair of Tifosi sunglasses with yellow-tinted lenses. I personally don't like black lenses and always lean towards a brown lense. These are along those lines, but they will darken if the sun is brighter. They are also polarized so the glare is minimal. Your sunglasses should fit snug so they block sun from both the front and side and won't bounce around. Try some different ones on and try leaning over to make sure they won't fall off your face.
9. Bodyglide or anti-chafe. I didn't use to use this stuff at all. However, I've been using it to rub between my toes, on my heels and under a few areas of my bra to make sure there isn't any unnecessary rubbing during the race. Johnson and Johnson also make an anti-blister stick that I find works very well.
10. Gels, goos, hydration, etc. I never used to use this stuff either. However, after our ten-miler last year when I got dehydrated mid-run, I started carrying it. I like Clif Shot blocks. I also try to drink whatever sports drink they have on course or  drink the water only and bring extra shot blocks or another fuel that I like. I am still testing around and feeling stuff out. You need to figure out what you like and then try running or exercising to make sure you won't have GI issues. Luckily I haven't had many GI issues while running…they hit me before and after the race, but hold steady when I'm actually out on the course.
11. Plastic baggie — to put your cell phone, camera, key, etc in and keep them sweat free.
12. Belt – wear a spi belt with a kanga pouch to keep my cell phone, key, money, id and fuel in. I don't wear it for shorter runs, but for a 10k or longer I'll def have the spi belt on. For my half I've been wearing both.  I DO NOT Carry water or drink with me for a race.
13. Flip flops — I pack flip flops in my checked bag or in the car to change into post-run.
14. Post-run snacks — again either in the checked bag or in the car I will keep some water bottles and/or some snacks just in case what they're handing out stinks. I have been finishing my races either with a growling stomach right away or within 15-20 minutes I'm starving.
15. Camera — umm pre and post-race photos are a must. To prove I was there.
That's it. This is my list for half marathons. For shorter runs I take much less.
What's on your race essentials list??